Monumento a José Antonio Páez (Plaza Páez, Barinas)
---
This bronze sculpture was created by an unknown artist as a replacement for the previous sculpture made of marble, by the Italian sculptor Emilio Gariboldi. The original bust was commissioned to Gariboldi in 1925 for a town square in Barinas City to commemorate Jose Antonio Paez (1790-1873), one of the heroes of the Independence War in Venezuela. Gariboldi's sculpture was stolen on an unknown date before 1970 and replaced with this bronze copy, sometime after 1970.

In 2007 the sculpture was vandalized with blue paint. The blue painting was removed but years later was vandalized again with dots of red paint, as is visible on the photogrammetry register made in April 2018. On March 17, 2019, the sculpture was stolen and its whereabouts are unknown.

The sculpture was located at Bolivar St / Paez Av, Barinas City, Barinas State, Venezuela.
---
Object Information
Alternate Title(s)

Monument to JA Páez
Monumento a JA Páez
Affiliated Institution/Community/Organization(s)

Institutional Assets and Monuments of Venezuela (IAM Venezuela)
The Arc/k Project
Original Creation Date (by artist/architect)

1925 (original)
Circa 1970-1975 (replacement)
Artist/Architect(s)

Emilio Gariboldi (original)
Unknown (replacement)
Object Medium(s)

bronze sculpture (replacement)
marble sculpture (original)
Source Image Photographer(s)

Photographer: Marinela Araque Rivero
Photographer: Samuel Leonardo Hurtado Camargo
Source Image Capture Date

2018-04-03
Source Image Capture Method

Photogrammetry
Capture Image File Type(s)

Canon Raw Version 2 (CR2)
Capture Device (manufacturer and model)

Canon PowerShot SX620 HS
Light Source Type

daylight
Calibration Object Used

scale bar
Photogrammetry Processor(s)

Krista Benson
The Arc/k Project
Source Image Count

753
Model Creation Date

2019-03-18
Model Format

,obj
Model Size (MB)

9MB
Model Triangles

900k
Model Vertices

486.3k
Arc/k ID

ARCK3D0000000075
Arc/k Piece Number

59
LC Subject Heading

Busts
Sculpture, Venezuelan
External links
Terms of Use

Educational Use Permitted Only - Attribution, NoDerivitives, NonCommerical
For additional information on the use of these images contact: info@arck-project.org
Media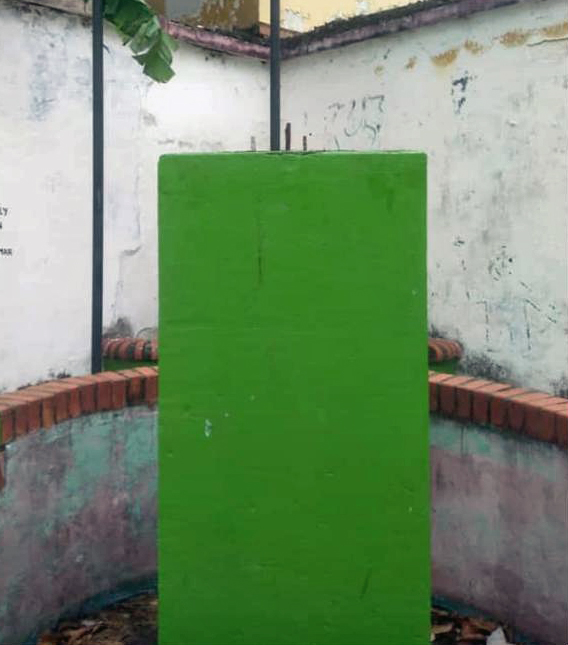 Pedestal without the bust of Jose Antonio Paez, stolen in Barinas on March 17, 2019. Image: Jose A. Perez Larrarte, Facebook.
Location
Location

Plaza Páez de Barinas
Address

Calle Bolivar, Av. Ricaurte
City

Barinas
State/Province

Barinas
Country

Venezuela
---